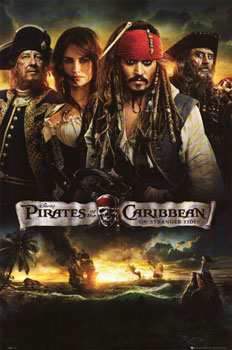 Aside from Netflix, we also have an account at Blockbuster and recently, we borrowed the dvd of the movie Pirates of the Carribean: On Stranger Tides.
This movie is a continuation of the Pirates of the Carribean series. This time, the quest is for the fountain of youth. Most of the characters from the previous Pirates of the Carribean stories are back like Johnny Depp's character Captain Jack Sparrow (of course) and Captain Barbosa but there are new additions to the story like the mermaid and Penelope Cruz as Sparrow's old flame.
If you want a believable story-line, this movie isn't for you. But if you enjoy watching adventure-fantasy movies, for sure you'll be immensely entertained by this movie especially with Jack Sparrow's funny antics.
I rate this 4/5. I'm not much a fan of this type of movies but I liked watching this.