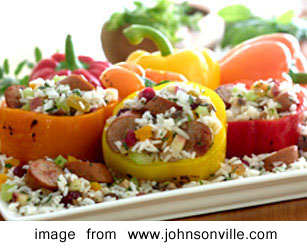 Craving for stuffed pepper? Here is a chicken apple sausage and rice stuffed peppers recipe that I got to try the other day. I'd like to share this with you:
Ingredients:
1 cup jasmine or white rice
2 cups chicken broth
4 large bell peppers, red, yellow or orange
2 teaspoon olive oil, divided
salt
pepper
1 package (12 ounces) chicken apple sausage, sliced on thin bias
1 1/2 cups onion, chopped
1/2 cup celery, chopped
8 ounces cremini mushrooms, sliced
1/2 cup dried cranberries
1/2 cup chopped red apple
1/2 cup chopped dried apricots
1/2 cup golden raisins
1 teaspoon fresh sage, chopped
1 teaspoon fresh oregano, chopped
Procedure:
Prepare rice according to package directions, substituting chicken broth for water.
Preheat oven to 350 Farenheit.
Cut tops off peppers and remove seeds and veins. Rub peppers with 1 teaspoon olive oil and slightly salt and pepper inside. Place peppers cut side up in a baking dish. Roast for 30 minutes or until peppers are tender.
Meanwhile, heat remaining teaspoon of olive oil in a large skillet over medium heat.
Saute sausage until lightly browned.
Add onions and celery and continue to saute for 4 minutes.
Add mushrooms and cook until vegetables are tender.
Add cranberries, apple, apricots, raisins, sage and oregano. Cook and stir until fruit is softened, about 5 minutes.
Stir in cooked rice and heat through. Season with salt and pepper if desired.
Fill prepared peppers with sausage/rice mixture. Serve immediately.
This recipe serves 4 people.
Enjoy!