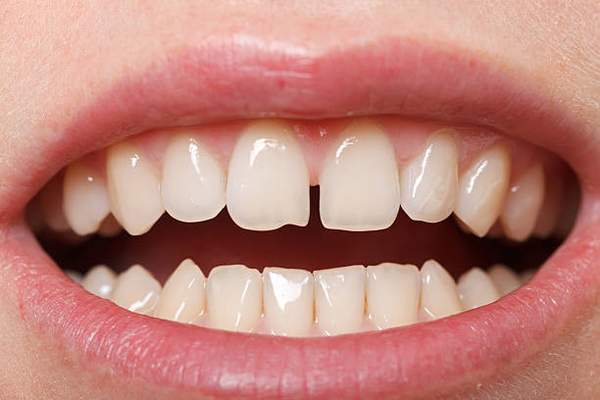 As much as our favorite celebrities and modern beauty standards may make us think otherwise, no one is born with red carpet-ready smiles. Of course, that doesn't mean you have to correct every flaw or even those that make you unique compared to your friends and other family members. Diastema is a good example of this. If you inherited or developed a gap in your teeth, you're not alone. Up to 97% of children have a gap between their front teeth. Usually, that gap grows together naturally, but if the diastema continues to form after adult teeth erupt it will be a permanent fixture. Your opinion of that is the only one that matters, so if you decide it needs to be fixed your cosmetic dentist in Northern Georgia can help with some simple but effective smile makeover.
What Causes a Diastema?
A perfect smile is a dream for many, but gaps often provide a lifetime of insecurity for those who have them. There are several reasons these form through the permanent tooth stage. Diastemas are often the result of a size difference between the jawline and teeth themselves. When overcrowding occurs, teeth are usually too large for the jaw and end up being crooked and misplaced.
But in the case of gaps, the opposite is true. Teeth are too small for the jaw so gaps form. The teeth are often completely healthy and straight. They simply can't fill the entire mouth area, so gaps form. Other causes of gap teeth may include missing teeth, poor oral habits such as extreme thumb or finger sucking, an oversized upper labial frenum or even genetics.
What Are the Safest and Most Effective Ways to Close the Gap?
Diastema-related gaps are almost always aesthetic issues with no health implications whatsoever. But if you're determined to close the gap once and for all, a competent cosmetic dentist in Northern Georgia has the perfect solution for your specific needs and budget. Braces are solutions for those who want a permanent solution and can afford the wait time for a perfect smile. Your dentist can help you choose between traditional metal, clear braces, lingual braces, and even Invisalign.
Inverted black triangles are common for forced diastema closures, so braces may not be a solution for your needs. But don't worry. The appearance of a perfect smile is still obtainable. Modern dentistry uses a strong tooth-colored composite material for bonding purposes. Utilizing a bit of artistic talent, your cosmetic dentist in Northern Georgia can fill in the gap and have you smile ready in no time. If your gap is due to a missing tooth or teeth, a bridge or implant (s) may be recommended. If you're looking for a quick or instant celebrity-quality smile, however, porcelain veneers may be your best bet. These custom-made, wafer-thin sheets of porcelain fit right over your existing teeth to provide the illusion of perfect teeth in as little as a couple office appointments.
Throughout history, people with diastemas have been considered unique with highly desirable physical and personality traits. Celebrities such as Madonna, Anna Paquin, Lauren Hutton, Alek Wek, Elijah Wood, Michael Strahan have helped diastemas make a trendy and acceptable comeback in modern society. But if you decide you're tired of the gap and are ready for that perfect smile makeover with the help of porcelain veneers or other professional options, we're just a call away.