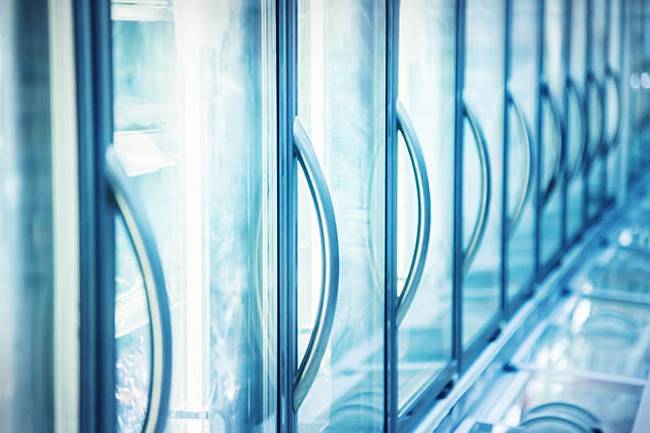 Businesses that depend on commercial refrigeration can nearly go into a panic when something seems off with the cooling. Below are six common reasons commercial refrigerators fail to cool correctly.
Coolant Seal Puncture
Losing the proper levels of Freon will result in a commercial refrigerator that runs, but does not get cool. An ice build-up around the coils is an indication that there may be a coolant leak.
Non-Working Fan
The fan helps keep the cool temperatures from fluctuating. If you can place a hand near the area of the fan and feel no air movement, it most likely needs replaced. This is a relatively cheap part to have replaced.
Failed Door Seals
Cracked and warped door seals will keep the doors from closing all the way. This allows the cool air to escape. It can also lead to burning out the compressor over time. The refrigerator will have to work overtime to try to maintain the cool interior the thermostat requires before shutting off.
Faulty Thermostat
A failure of thermostat will leave the refrigerator with no way to cool and maintain any particular temperature. It normally requires a technician looking at the unit before making the final determination as it being a faulty thermostat. There may be times it acts up before, but it could be a complete failure at one time. It is an unpredictable problem that requires immediate repair.
Compressor Failure
A somewhat obvious sign that you have a compressor problem is not hearing the telltale kicking in of the compressor when the refrigerator is plugged in. If the lights are on and everything seems okay, but the compressor fails to kick in, it is time to call in a repair technician. There could be other associated electrical issues, but a lack of cooling with no compressor activity requires immediate attention.
Dirty Coils
Dirt and dust can build up on the coils of a commercial refrigerator and render the cooling capacity ineffective. A quick professional clean will get the appliance up and running again at normal cooling temperatures.
Contact commercial appliance specialists like Sub Zero Repair Centers NYC for your commercial refrigerator repair NYC now!