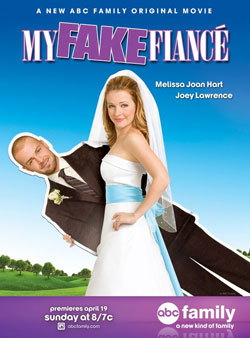 I signed up for Netflix yesterday and been on a movie-watching mode since yesterday. The first film that I watched during my Netflix subscription is the TV film from the ABC family channel entitled My Fake Fiance.
My Fake Fiance is a feel-good romantic comedy movie that was released in April 19, 2009. It belongs to the genre that I love: romance-comedy.
Unlike other feel-good movies, My Fake Fiance doesn't give an illusion that people are perfect – and they showed the story of two people with lots of character flaws falling in love despite the negative things they know about each other.
The story is about a woman named Jennifer (played by Melissa Joan Hart) who planned to have a fake wedding for the sake of getting the wedding gifts because her stuff got stolen and a guy named Vince (played by Joey Lawrence) who is in deep trouble because of his gambling problems. He agreed to a fake marriage to Jennifer because he needs the money that he'll receive as wedding gifts to pay off his loan from a loan shark named, "The Monkey."
I liked the film because it made me laugh, smile and cry while watching it – and the plot is realistic and a bit unique. I am giving this movie a rating of 5 out of 5. If you're not into romance comedy genre, you should take score that with a pinch of salt though.
Anyway, gotta go now as I still have to look for a sliding rack online. Have a great day!