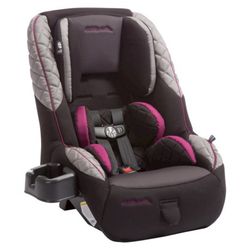 When my youngest daughter was born, we were not allowed to leave the hospital without a safety-approved car seat. The nurses adjusted the car seat to fit the baby. I grew up in a country where car seats are rarely used so I was a bit hesitant to see my teeny-tiny little one strapped into an infant car seat.
According to the book written by Dr. Benjamin Spock that was entitled Dr. Spock's Baby and Child Care, one of the biggest dangers a newborn faces is the ride home from the hospital. It is important to place the newborn in the back seat facing backward; putting them in front of a working air bag can seriously injure or even kill a small child.
The new advice from the American Academy of Pediatrics (AAP) that was published in the April 2011 issue of Pediatrics is for parents to keep their toddlers in rear-facing car seats until age 2, or until they reach the maximum height and weight for their seat.
Dennis Durbin, MD, FAAP, said that "A rear-facing child safety seat does a better job of supporting the head, neck and spine of infants and toddlers in a crash, because it distributes the force of the collision over the entire body. For larger children, a forward-facing seat with a harness is safer than a booster, and a belt-positioning booster seat provides better protection than a seat belt alone until the seat belt fits correctly."
According to the AAP website, deaths in motor vehicle crashes is still the leading cause of death for children ages 4 and older.
You can read more about car seats at Healthy Children or learn more about this car seat recommendation update from AAP.
This post is brought to you by Durham air conditioning.