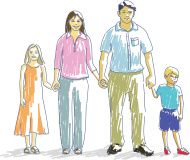 Children are like sponges. They imitate, learn and look up to adults as role models. As parents, we should make sure that we set positive examples for our children so that they will grow up to be better persons.
I was given a leaflet entitled "10 Ways to Set a Positive Example for Your Child" from Positive Promotions during my child's recent wellness check-up. I would like to share this list with you.
Exhibit the character traits that you want for your child.
Demonstrate good habits about hygiene, safety and health.
Show you enjoy reading and learning. Your child will imitate you.
Be consistent and firm but loving. Never use physical punishment when you discipline; it teaches that violence is ok.
Work on any personal addictions or issues. If necessary, get help and serve as an example in that way.
Be financially responsible. Stick to a budget, set aside savings, and be a smart consumer.
Do your part for the environment by reducing, reusing, and recycling at home.
When you make a mistake, apologize. Let your child see you make amends.
Volunteer and/or donate to charities so your child learns the value of helping those in need.
Be a good citizen by obeying laws, staying informed, and getting involved.
Again, I do not take credit for the list stated above. Nevertheless, I am sure that you will find it useful. Do you agree?