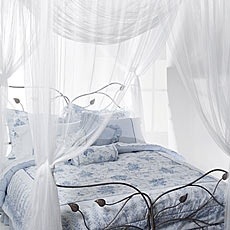 Do you know that you spend roughly one-third of your life in bed? Because you spend so much time in your bedroom, it is important to make this space stylish and restful. Upgrading your bedroom lifts your mood and helps you sleep better. Simple additions, such as a canopy bed or wall sconces, make a big difference. Here are five easy steps for transforming your sleeping space from drab to dreamy.
The first step towards renovation is to update your bed. A bed with a canopy and curtains is the best choice for a peaceful night's sleep because it blocks out light and distractions. A canopy water bed provides a sleeping oasis for adults, while children's rooms and guest rooms call for a canopy bunk bed to maximize space.
The second step is to choose a bedding set that is comfortable and durable.
The third step is coordinating window dressings and bed curtains with your bedding set. Choose items that complement each other without matching.
The fourth thing to consider is decor. Keep most of your decor items on the walls to minimize clutter. Wall sconces are a great way to add color, texture and light to your bedroom.
The final step is removing clutter from your bedroom. Keep everything organized with storage bins and closet organizers.
Now that your bedroom is stylishly updated, lie down on your new bed and enjoy a nap.